ITW FastMag GEN3 Belt Pistol Magazine Holders Black

Brand:

SKU:

ITW-00711

UPC:

Weight:

0.25 LBS
Frequently bought together:
Description
ITW FastMag Product Installation Instructions
The FastMags GENIII accommodates magazines. It reduces reloading cycle time for the operator and can be mounted in the up or down direction (operator's preference). The system eliminates the need for traditional top closures, while providing a secure point of access. The enhanced urethane tension strap is adjustable to meet the users preference for removal tension. The mounting slots on the front allow operators to 'double-stack' FastMags or attach nylon accessory pouches using MALICEClips, giving even more options for your kit setup.
The FastMag Duty Belt is designed with an adjustable/removable belt slide that fits most belts including rigger and duty belts. The FastMag Duty belt is also uniquely designed for 'double-stacking' by removing the adjust belt slide.
GhillieTEX IR Signature Reduction Technology
Compatible with most ammunition magazines
Reduces reload cycle time
High-Impact resistant polymer case with anti-fragmentation properties
Attachment slots for 'double-stack' or Maliceclips
Magazine stays secure without pouch flap, hook, cover, or bungee
Enhanced urethane tension strap can be moved up or down for additional tension
Resistance to solar heating
Exclusively distributed by ITW Military Products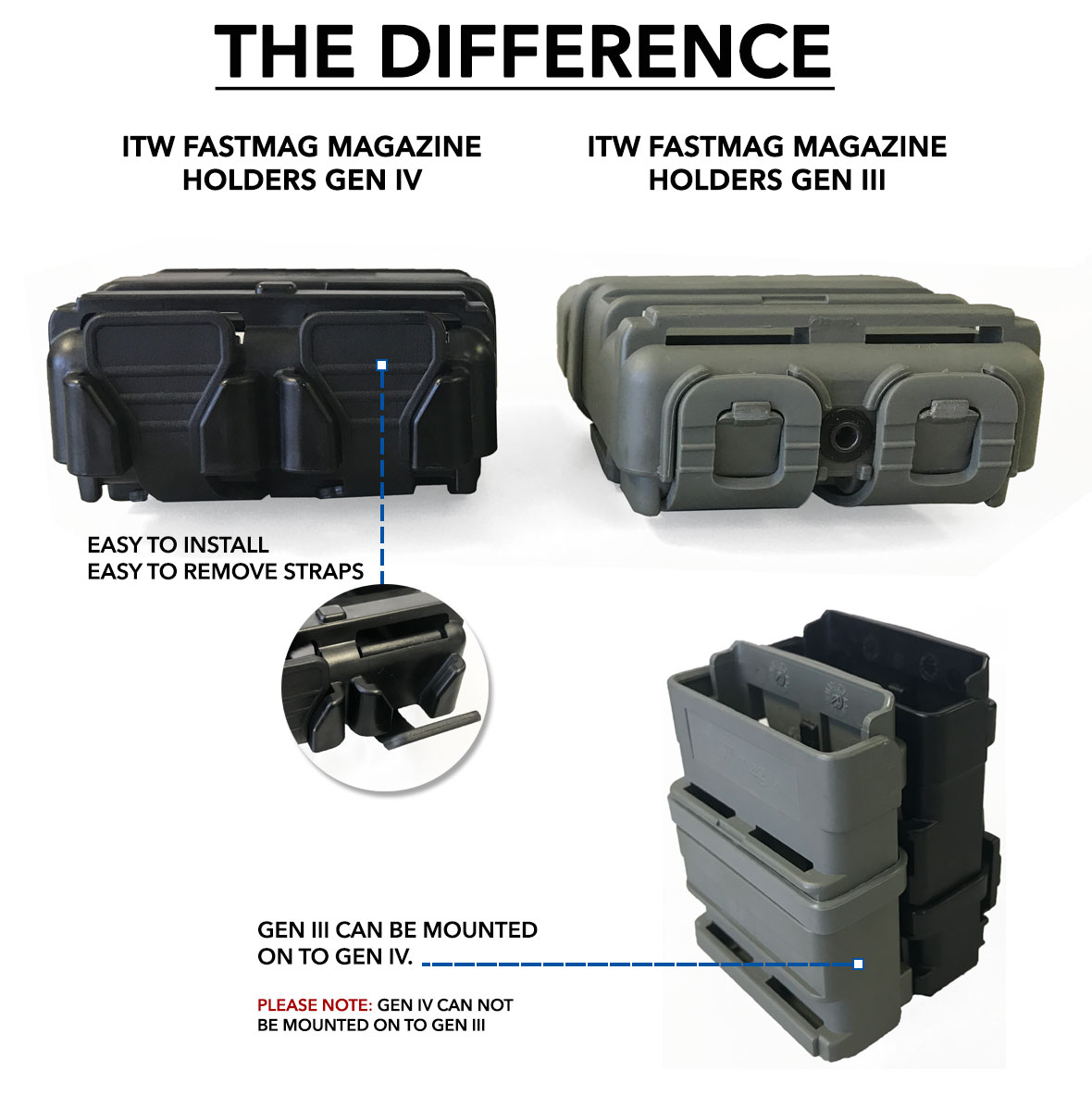 WARNING This product may contain chemicals known to the State of California to cause cancer and birth defects or other reproductive harm. For more information go to www.P65Warnings.ca.gov.

<30px>NO RETURNS OR EXCHANGES ON PPE EQUIPMENT, BALLISTIC PRODUCTS, AMMUNITION, OR FIREARMS.
. . 30px>
View All
Close
Additional Information
| | |
| --- | --- |
| Product ID: | 18266 |
| Type: | Magazine Holders |
| Origin: | Made In USA |
| Color: | Black |
| Caliber: | 9mm |
| Caliber: | .40 |
| Caliber: | .45 |
View All
Close
5 Reviews
I really like these mag pouches, they are fast. I don't know if its me but I don't find them as easy to put mags back in as other pouches when doing tactical mag changes. I also don't see how the version designed for belts is really better on belts. I am probably doing something wrong but I'm sticking with MOLLE version from now on. Very happy with these.

They were supposed to be belt loop type, but if that was the case it was almost impossible to get a belt through unless you wear dental floss for a belt. I then undid the straps in the back and was able to attach to a molle back pack. They work OK, but I would not buy more.

They are great and hold mags secure.

These pouches are a great

These pouches are a great balance between speed and retention. As a bonus they are able to hold any of my pistol mags from 9mm to 45acp; single stack or double.

Good product/quality
View All
Close
Please note:
PayPal checkout is disabled for carts that contain products with restrictions due to PayPal's acceptable use policy.
If you wish to use PayPal for part of your order please use separate shopping carts.
In an effort to be more competitive, we are moving from our free shipping policy, to a weight & destination-based shipping charge.
Until now we have been padding the sale price of our products to cover the free shipping cost. You will see overall savings when purchasing a single product but even bigger savings when purchasing multiple products at the same time. This allows us to group & ship together, eliminating excessive shipping fees. Selected marked items will still qualify for free GROUND or 2 DAY AIR shipping.
We would very like to earn your business, so you can always use the RFQ/REQUEST QUOTE for quantity orders and products protected by manufacturers MAP pricing policies.
Sales Tax Exemptions: We are required to collect sales tax on your order except for the following states: Alaska, Arizona, Delaware, Florida, Kansas, Missouri, Montana, New Hampshire, Oregon, & Puerto Rico. Other exemptions: Federal agencies, holders of state sale tax exemption/resale certificates & international sale.
Our ordering system will not charge sales tax for the above exempt states, but if you are tax exempt for any other reason check the NO SALES TAX box in the order form, sales tax will be removed prior to final billing.